Most useful customer reviews
28 January 2013
Great fun little roamer
This is a brilliant little toy. It senses it's surroundings and avoids obstacles. Or you can use it to explore your house. the charging connection is a usb "tail" and the control unit attaches to the 3.5mm jack port of your phone.] Hours of fun at a great price
2 January 2013
Great Fun at our Christmas Dinner
I bought TankBot robots as table presents for the guys at our traditional Christmas meal. They worked really well and were crawling all over the table. The fellas continued to plkay with them all afternoon. I was impressed as it was very easy to download the app and control them from our phones. Even when not remote controlled they were great in the two other modes available. All round good fun.
Brian Wareham
Ripon, North Yorkshire
Iphone
30 December 2012
Just a relax-a-toy
Bought as a stocking filler desk play thing to help relax a hard working family member. The initial impression was: "Uh, what's this"? Followed by a pleasing smile as the TankBot danced about trying to avoid everything & everyone. Instant hit!!!
21 Reviews
|
Write a review
---
Additional information
Three control modes demonstrate Tankbot's unique features
Tankbot isn't your ordinary remote controlled tank. Featuring advanced optical navigation technology, Tankbot can drive effortlessly around any environment without constantly bumping into things. Three different control modes demonstrate it's incredible abilities. The first is the touchless navigation mode, where Tankbot will drive around avoiding objects or even navigating mazes.

The second mode lets Tankbot roam freely, going where it wants with flashing lights and sound making it seem to have a mind of it's own. The final mode utilises the iDeskPet Universal Remote to let you manually control Tankbot from your phone. You can use this mode to do time-trials round an obstacle course, bump into people's ankles or just make sure your Tankbot keeps up with you while you walk.
Cute design and light-up eyes with sounds give Tankbot a personality of it's own
From it's bright, expressive eyes to the tiny tire tracks, Tankbot has been designed to appeal. You'll instantly fall for your Tankbot, as it beeps and whirrs it's way around your home or office. Tankbot is the pet you've always wanted, but didn't want to clean up after.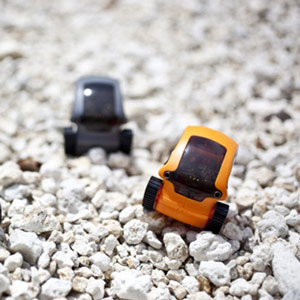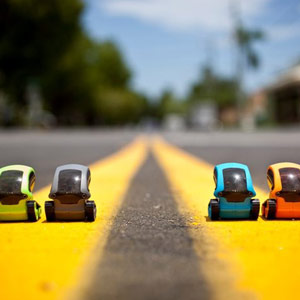 iDeskPet Universal Remote works with iPod Touch, iPad, iPhone and most Android phones
Unlike Bluetooth remote-controlled vehicles that can suffer from interference, Tankbot uses the iDeskPet Universal Remote that plugs into your headphone jack to provide an uninterrupted connection between Tankbot and your phone. The remote is compatible with all models of iPhone, iPod Touch and iPad, as well as most Android smartphones. A free universal application is available on the App Store and Android Market. Each colour of Tankbot runs on a different frequency, so you can have races or just let them play together without worrying about crossed connections.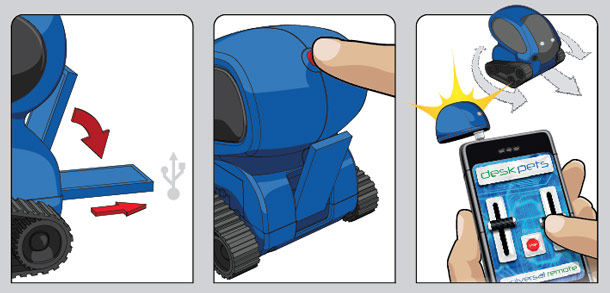 Flip-out USB connector lets you charge at home, at school or at work
On the back of Tankbot can be found a flip-out USB connector that lets you instantly and easily connect to a USB power source. This means you can charge anywhere you can find a computer, with 40 minutes of charge resulting in 15 minutes of play.
Please note: The Tankbot is useable without a mobile phone, but requires an iPhone, iPod Touch, iPad or Android device to use the remote control features.