Most useful customer reviews
Dale Karl Harvey
Macmerry
Apple devices iphone5,6 and 6 +
21 October 2016
Massive quality and tiny packages
This is aimed at my Daughter 12 years old! She took it to school and at break she could play it in her locker using it as a amplifier for this magical speaker! Well packaged minimum however most effective, I used the second one and I stuck it to my wheelchairs headrest so no need to have really loud but sounds where there for the listening! Thanks MF! A repeat/return Happy customer again so far 100%
AlanK
Sunny South Coast
iPod, Galaxy Tab 2 10.1, Galaxy S3
1 June 2013
WOW... the best portable speaker i've heard!
As usual, MobileFun sent the item the very next day and I was really impressed when I connected it to my iPod... I put the small adhesive pad on the speaker onto a cardboard box and it was amazing! Even the base response was terrific! I showed to some friends at work and they ordered straight away... it is almost too good to be true but believe it - it's GREAT (and sooo inexpensive).
Ray Thornton
SKIPTON
Pocket Boom Portable Vibration Speaker - Black.
30 April 2013
Pleasantly surprised
I read the reviews and I watched the video and the Pocket Boom Portable Vibration Speaker seemed to be too good to be true. My Samsung Galaxy S Mp3 is quite loud without an external speaker but had no depth in tone even with changing the sound settings.I didn't require loud sounds just better quality and a bit more volume.I have this and more with this device.Its an amazing Gadget.It works well any a variety of items including a book,a tin container.The cost of it is very reasonable and wont break the bank.I am quite a perfectionist with gadgets and like to find the fault with anything,however I am struggling with this.The Pocket Boom Portable Vibration Speaker is small and compact an is easy to set up.I would honestly say that I am happy with this product and would reccomend it.Thank you
83 Reviews
|
Write a review
---
Additional information
Sonic Boom head turns any surface into a speaker
When you hit a drum with a drumstick, the surface vibrates and causes the air around it to vibrate, which generates a sound. Using this principle, the Sonic Boom can convert any surface into a speaker, with a wide variety of effects. The Sonic Boom head vibrates like a regular speaker, but amplifies these vibrations to allow them to permeate through anything from a desk or window to a cup or cardboard box. This means you get the power of a much larger speaker and amplifier in a portable package. You'll never get tired of trying out new speakers with the Sonic Boom!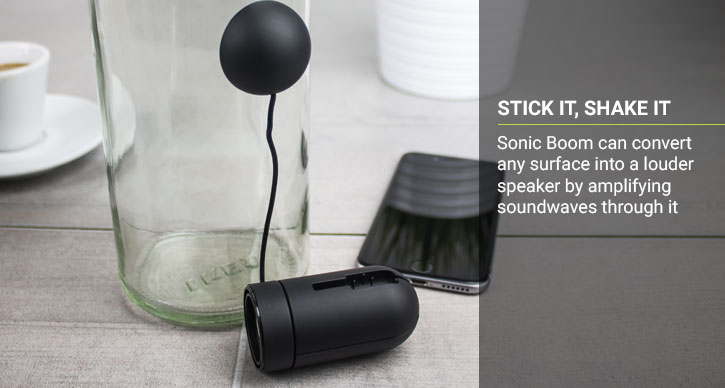 Magic sticky pad attaches firmly to wood, glass and more
In order for the Sonic Boom to function, it needs to be stuck to the surface you want to turn into a speaker. To facilitate this, the Sonic Boom features a magic sticky pad that attaches to almost any surface with ease, while also being able to be removed without leaving any residue. If the sticky pad does loose some of it's magical properties, simply wipe it with a damp finger to restore up to 95% of the original stickiness.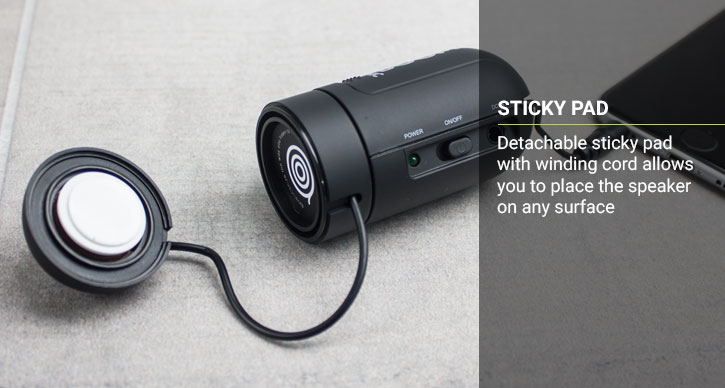 Small size means you can take it anywhere
Measuring just 9.5cm long and with a diameter of only 3.5cm, the Sonic Boom really can be taken anywhere. It all folds up into a neat capsule, meaning there's no loose wiring to worry about, while a lanyard eyelet means you can attach it to your keys or carry it round your neck so you're never without your Sonic Boom.
Powered by two AAA batteries for all day, easily replaceable power
The Sonic Boom only requires two standard AAA batteries (not included) which provide several hours of playback and are easy to replace. This also makes it a truly take anywhere replacement for regular, clunky portable speakers. Alternatively, the Sonic Boom can be powered via the included USB cable, to help you save battery power when you're at your desk.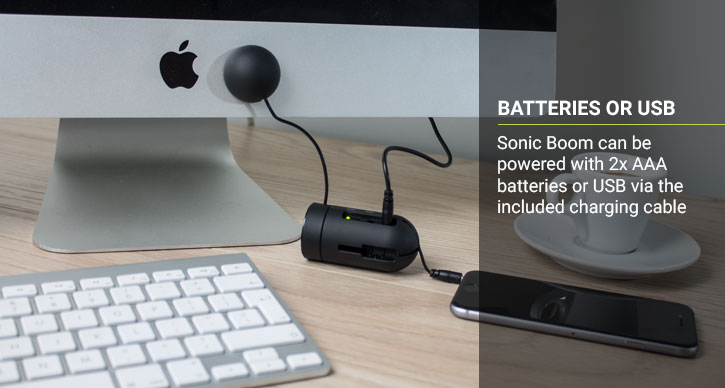 Standard 3.5mm jack for compatibility with most phones and media players
Utilising a standard 3.5mm headphone jack, the Sonic Boom is compatible with most mobile phones and media players, so you don't have to worry about whether it will work with your device. Simply plug it in, turn it on, and let the tunes flow. There's even a 3.5mm extension cable included for when you need some extra distance.