Most useful customer reviews
Cyndi
Abilene Texas
Sonic Boom Portable Vibration Speaker - Black
24 May 2017
Great Speaker
Great Speaker, Easy to use in office. good sound.
Superpete
Crabtree Quebec Canada
Sonic Boom Portable Vibration Speaker - Black
25 January 2017
great gadget
On certain objects it sounds crappy but I was very surprised when I tried it on the side of my toaster.It sounded li8ke a real speaker nut the best sound of all was when spplied to an old milk jug.It sounded like a good quality speaker.The larger the container is the better the soumd.I am Very satisfied
Bill Lavender
Oxford
Sonic boom portable vibration speaker
4 January 2017
Cracking little gizmo
Really pleased with this little gizmo, so much so that just ordered another to keep in the car! Alright, we're not talking high end sound quality but for this price, it's brilliant! Well pleased,many thanks!
95 Reviews
|
Write a review
---
Additional information
Sonic Boom head turns any surface into a speaker
When you hit a drum with a drumstick, the surface vibrates and causes the air around it to vibrate, which generates a sound. Using this principle, the Sonic Boom can convert any surface into a speaker, with a wide variety of effects. The Sonic Boom head vibrates like a regular speaker, but amplifies these vibrations to allow them to permeate through anything from a desk or window to a cup or cardboard box. This means you get the power of a much larger speaker and amplifier in a portable package. You'll never get tired of trying out new speakers with the Sonic Boom!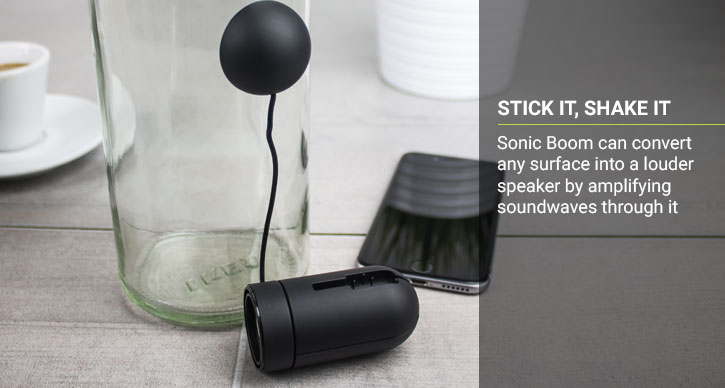 Magic sticky pad attaches firmly to wood, glass and more
In order for the Sonic Boom to function, it needs to be stuck to the surface you want to turn into a speaker. To facilitate this, the Sonic Boom features a magic sticky pad that attaches to almost any surface with ease, while also being able to be removed without leaving any residue. If the sticky pad does loose some of it's magical properties, simply wipe it with a damp finger to restore up to 95% of the original stickiness.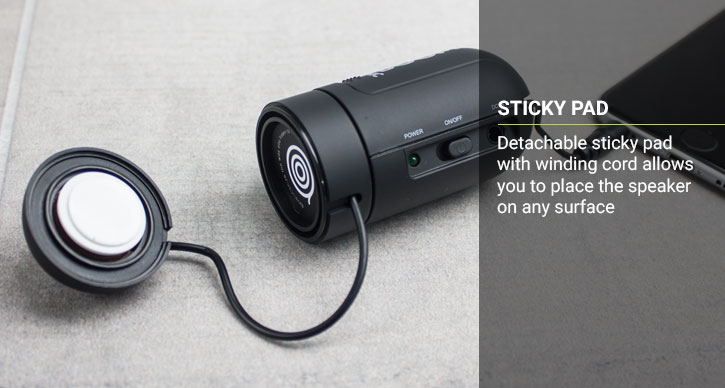 Small size means you can take it anywhere
Measuring just 9.5cm long and with a diameter of only 3.5cm, the Sonic Boom really can be taken anywhere. It all folds up into a neat capsule, meaning there's no loose wiring to worry about, while a lanyard eyelet means you can attach it to your keys or carry it round your neck so you're never without your Sonic Boom.
Powered by two AAA batteries for all day, easily replaceable power
The Sonic Boom only requires two standard AAA batteries (not included) which provide several hours of playback and are easy to replace. This also makes it a truly take anywhere replacement for regular, clunky portable speakers. Alternatively, the Sonic Boom can be powered via the included USB cable, to help you save battery power when you're at your desk.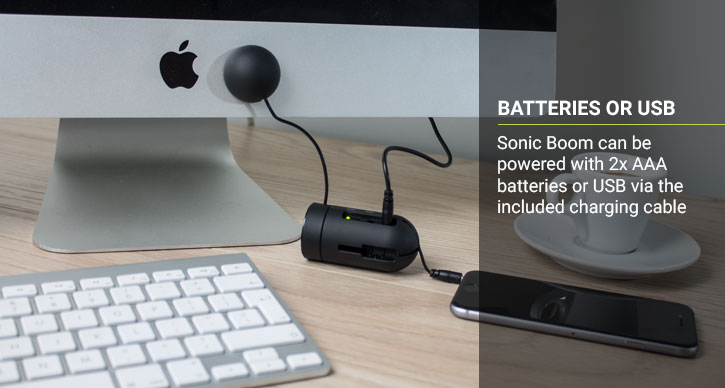 Standard 3.5mm jack for compatibility with most phones and media players
Utilising a standard 3.5mm headphone jack, the Sonic Boom is compatible with most mobile phones and media players, so you don't have to worry about whether it will work with your device. Simply plug it in, turn it on, and let the tunes flow. There's even a 3.5mm extension cable included for when you need some extra distance.