a-Jays One Heavy Bass Impact Earphones
Product reference: 25661
The a-Jays Ones give up a rich, deep bass response and will help you to discover your music all over again.
"Great Buy"
"Doctor Who?"
"excellent"
Most useful customer reviews
W Hammond
Halton
Nokia E63 Mobile Phone
8 April 2014
Great Buy
Don't be misled by the name Heavy Bass Impact Earphones. The top end is also crystal clear providing excellent sound quality over the full audio spectrum. The cables are symmetrical for those who prefer this type. The flat design feels more rugged without being heavy and the cables never become tangled. All in all, an excellent pair of earphones at the right price.
BRYN STOCKER
KINGSTON, SURREY
iPhone 5
11 November 2013
Doctor Who?
Having looked at, and quickly dismissed the massive outlay for a pair of Dr.Dre head/earphones, I settled for these a-Jays. My choice was a good one, bearing in mind that I would be using them with my iPhone, and not a high spec Bang & Olafsen system. I feel things have to be put in context.These earphones are comfortable, coming with a selection of rubber grommets of different sizes, and sound excellent. One minor niggle was changing the rubbers. A brain surgeon would probably be dexterous enough to undertake this challenge. For me, with my fat, shakey fingers and diminishing eyesight, it was a battle of wills. Taking them of is simple...putting them back on was a nightmare. We all know that earphone cables come to life when we're not looking, and coil themselves into the most extraordinary knots and tangles. The flat cables on the a-Jays however, do not seem to present this problem, and have a very robust, rubbery feel. Do watch out if you have a case on your iPhone. The jackplug on these earphones is angled at 45 degrees to the cable, and could be impeded by a small aperture in the case. I have an Otterbox fitted to my phone, and the plug pushes home far enough to give a good connection. Please also be aware that there is no microphone on these earphones, something I didn't notice when ordering them. The more expensive models do have a built-in mic. For the price paid, I certainly cannot fault these little beauties, and would say that unless you want 'state-of-the-art', they are well worth considering.
9 August 2013
excellent
excellent
54 Reviews
|
Write a review
---
Additional information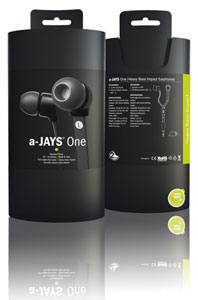 Why Buy:

Superb sound quality from 8.6mm dynamic driver
Flat, tangle free cable
Includes replacement buds for the perfect fit
Superb sound quality from 8.6mm dynamic driver
The new a-Jays series gives you a listening experience far superior to that of the standard earbuds packaged with your phone or MP3 player. Featuring an 8.6mm dynamic driver, the a-Jays One earphones offer a rich, deep bass response alongside crystal-clear treble.
Flat, tangle free cable
With the a-Jays series you needn't worry about knotted cables. The 5mm wide flat headphone cable is specially designed to resist tangling, so you can store them however you want and pull them straight out, ready for use when you need them.
Includes replacement buds for the perfect fit
Another product innovation from Jays is the inclusion of five pairs of silicone sleeves designed to give you the the best possible earphone fit. Not only will this provide maximum comfort, but also the ultimate in sound quality.
What's in the box:

a-Jays One heavy bass impact earphones
4 pairs of replacement silicone sleeves
User manual
*Phones without a 3.5mm headphone socket will require an adapter (sold separately)
There are no reviews for your native language. Please select an alternative filter above.
Average rating 4,8 given by 54 customers | Write a review