a-Jays One Heavy Bass Impact Earphones
Product reference: 25661
The a-Jays Ones give up a rich, deep bass response and will help you to discover your music all over again.
"Best Earphones ever!"
"jsys earphone"
"Great Buy"
Most useful customer reviews
22 October 2014
Best Earphones ever!
I can confirm everything good that everyone else has said, no need to repeat, it's all in the title. If you're looking for earphones, get these. Only difficulty I had was changing the sleeves but after a while I found that it's much easier if you turn them inside out when trying to get them on.
Anne Ronsky
Essex
Jsys earphones
22 June 2014
jsys earphone
Love these earphones, they are defo the best I have had and I have gone through a few (earphones, that is!) The sound quality is brilliant and the non tangle cables really work well. Very happy with these - delivery was quick and the earphones come packed in a cool Swedish container...
W Hammond
Halton
Nokia E63 Mobile Phone
8 April 2014
Great Buy
Don't be misled by the name Heavy Bass Impact Earphones. The top end is also crystal clear providing excellent sound quality over the full audio spectrum. The cables are symmetrical for those who prefer this type. The flat design feels more rugged without being heavy and the cables never become tangled. All in all, an excellent pair of earphones at the right price.
60 Reviews
|
Write a review
---
Additional information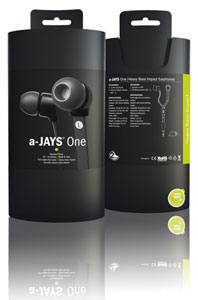 Why Buy:

Superb sound quality from 8.6mm dynamic driver
Flat, tangle free cable
Includes replacement buds for the perfect fit
Superb sound quality from 8.6mm dynamic driver
The new a-Jays series gives you a listening experience far superior to that of the standard earbuds packaged with your phone or MP3 player. Featuring an 8.6mm dynamic driver, the a-Jays One earphones offer a rich, deep bass response alongside crystal-clear treble.
Flat, tangle free cable
With the a-Jays series you needn't worry about knotted cables. The 5mm wide flat headphone cable is specially designed to resist tangling, so you can store them however you want and pull them straight out, ready for use when you need them.
Includes replacement buds for the perfect fit
Another product innovation from Jays is the inclusion of five pairs of silicone sleeves designed to give you the the best possible earphone fit. Not only will this provide maximum comfort, but also the ultimate in sound quality.
What's in the box:

a-Jays One heavy bass impact earphones
4 pairs of replacement silicone sleeves
User manual
*Phones without a 3.5mm headphone socket will require an adapter (sold separately)
There are no reviews for your native language. Please select an alternative filter above.
Average rating 4,8 given by 60 customers | Write a review